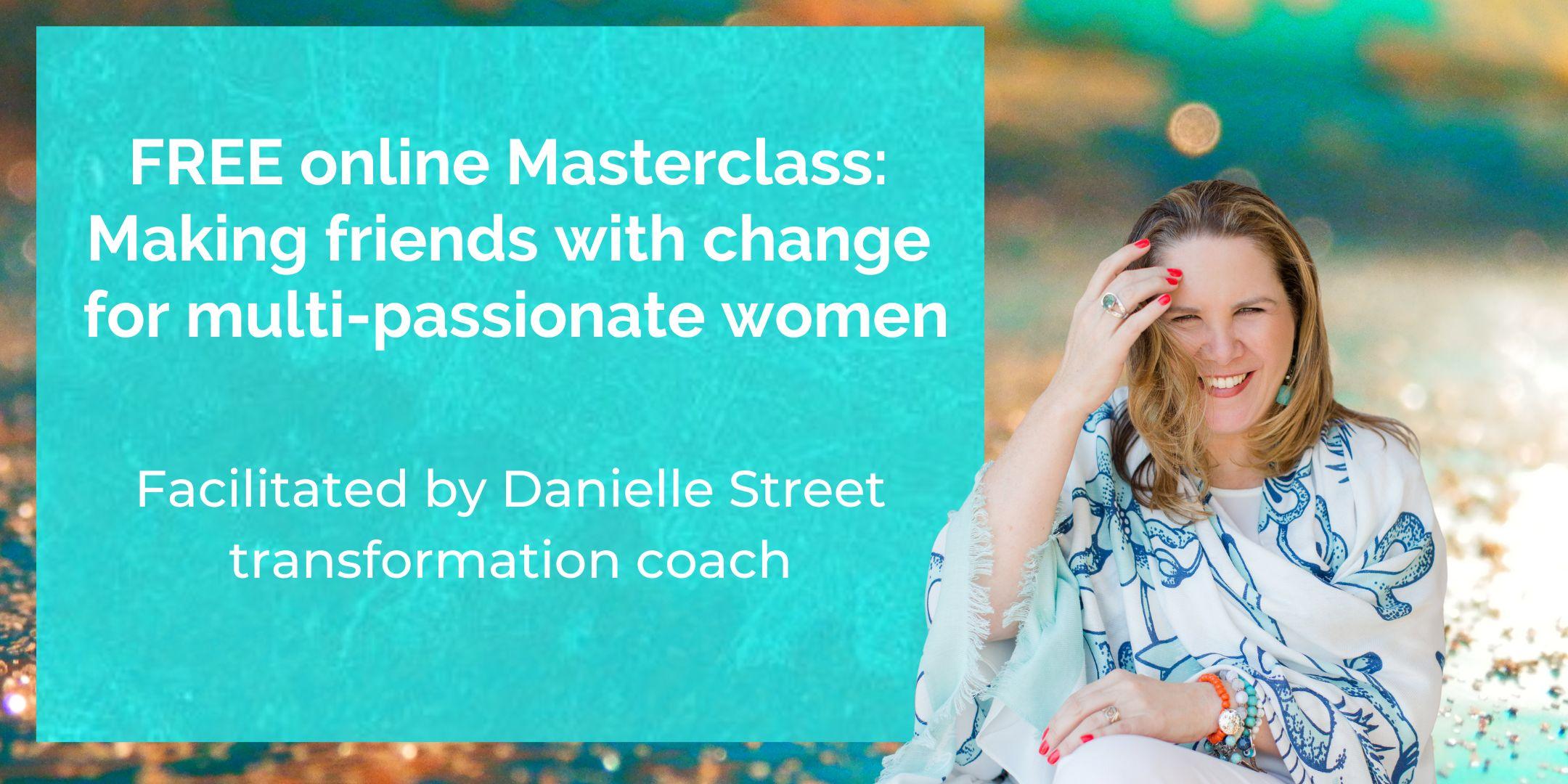 09 Jun

FREE masterclass – Making friends with change for multi-passionate women

Lots of ideas but maybe you're stuck or don't know where you're going? Get back in flow as you embrace change and be your own cheerleader.
💜Are you feeling uncertain about change at the moment?
💜Lots of ideas but not sure who you are or where you are going?
💜Feel like you are shedding old skin that no longer fits?
You're not alone.
And maybe deep down you're feeling like you're…
💜a bit lost or,
💜a bit uncertain or,
💜a bit overwhelmed.
I've got some tools to share with you to help you move through the change process.
I'm Danielle Street, and I'm a transformation coach, working with women to help them find clarity, confidence and to take courageous action to be seen and heard.
And I've created a free masterclass just for you called 'Making friends with change'.
Does this sound like you?
Maybe you can relate as you have those great ideas but sometimes it can feel like you're really stuck not knowing where you're going.
Personally, I know this journey very well. When I feel myself going into hibernation I sometimes forget that it's just change. And everything will turn out OK.
And once you realise that you are transforming and getting back in flow with change, that's when the magic happens.
You can then observe the highs and lows and be kind to yourself as you re-connect with your intuition and listen to what your heart desires.
And knowing that you're just moving through change will feel so much more manageable despite any discomfort that might appear.
You're emerging into who you're meant to be and all your feelings are just another step in the process.
So in this free masterclass, I'll be sharing with you some tips on how to:
💜identify blocks to change your mindset
💜connect with your intuition to reconnect with yourself and
💜learn practices to look after you when things aren't feeling like they usually do and get back in flow.
So what would it feel like to embrace change, be kind to yourself and be your own cheerleader during this time of emerging?
You won't want to miss this FREE online masterclass as you will come away with clear direction to get back in flow during this time of change. Book your place now. 💜